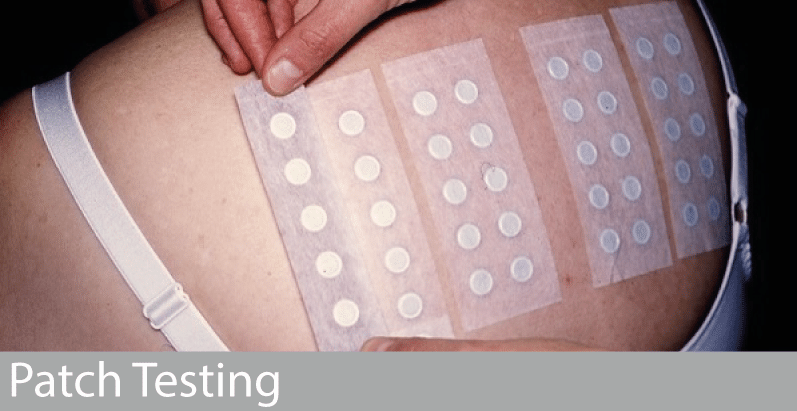 Patch testing involves attending 3 appointments in the same week on a Monday, Wednesday and Friday. Each appointment is scheduled at the same time and takes approximately 20 minutes. The procedure involves placing a number of small aluminium discs on your back and possibly your upper arms. The discs contain substances to which you might be allergic. These are held in place for 48 hours with adhesive tape. The position of each disc is marked with a marker pen. If you are allergic to a tested substance, you will develop a patch of eczema under that disc corresponding to that test material. There is an extremely low chance of making you allergic to something through the patch testing procedure. The substances used for testing are selected carefully and are tested at a concentration sufficient to produce an allergic reaction if it exists. Some substances can be slightly irritant or your skin may be very easily irritated. Therefore you may have some reactions which will be considered irritant rather than allergic.
On the Monday visit, a history is taken and appropriate patch tests are applied.
On the Wednesday visit, we shall remove the patches for you in clinic. We will assess if you have reacted to any of the tests materials. You may possibly have a few more patches added at this visit.
On the Friday, we will re-assess the sites as some allergic reactions may only appear at this stage. You will be informed if you are allergic to anything and given advice for the future.
Please note that it will not be possible for you to take a usual bath or shower until after the Friday visit as you must not get the test areas wet. You can, however, wash down with a flannel away from the test area and wash your hair over the basin or sink throughout the test.
Some "Do's and Don't's"
• Do bring along a list of any tablets you are taking or creams that have been prescribed.
• Do bring anything which you think may have caused or aggravated your eczema, in particular cosmetics or creams bought from the chemist or health shop, rubber gloves etc. The packaging that may list the constituent ingredients is also very helpful.
• Do avoid sport or heavy physical work until after the second appointment, as this may dislodge the tapes and patch test materials.
• Don't apply moisturiser to your back on before your first appointment or throughout the test
• Don't apply steroid cream to your back and upper arms for 3 days before your patch tests.
• Don't wear your best clothes or bring a change of clothes with you.
• Don't make the appointments in the 2 weeks following a sunny holiday or after using a sun bed as the tests don't work on newly sun-tanned skin.
For men with a hairy back it would be best to clip the hair over the upper back or shave it at least 2 weeks before the tests commence. If it is done later than this you may have a reaction to the shaving procedure and we will not be able to commence the test.
If you are booked in for patch tests please ensure that you have read the Do's and Don't's or the downloadable patch test information sheet. Click here to download the PDF information sheet.